Rapid Flow QFlex
The QFlex System offers a predictable, powered system in the 1,000 lb. per load category. The QFlex Power & Free System was designed with optimum flexibility with lowest costs possible. Put simply, the QFlex System is the most versatile, dependable overhead conveyor system for your money.
The QFlex system uses a two tracks including an upper track in which the Rapid Flex chain runs, and a lower free track which carries the load-bearing trolleys. This allows for lower maintenance and long life. In most cases, the only maintenance required is the periodic lubrication of the conveyor chain.
Providing "online" accumulations capability and using a network of spurs and loops, the QFlex Power and Free System provides optimum flexibility. You can accumulate loads, allow to dwell, provide in-process storage, reroute, transfer and hold product and much more – while the conveyor system line continues to operate without interruption.
Installed overhead and off the production floor, the conveyor system takes up no valuable floor space. It can change elevation, turn corners and accommodate diagonal banking without requiring major modifications to the facility's floor plan.
Below is a summary of the key factors of the QFlex System. For even further information, download the Q-Flex brochure above.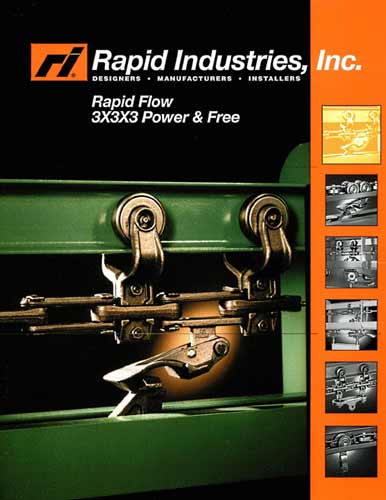 View .PDF
Among its features:
Flexibility: allows for holding areas, in-process areas, rerouting products, accumulating and more.
Versatility through maneuvering of corners, elevations and bank turns. Also can be added to easily.
Partially enclosed track suited for finishing industries
Ease of installation and reconfiguration
Low maintenance, the lowest conveyor of its kind for the money
Up to 1,000lbs. load capabilities