Rapid Flow 4×4
Created with specially designed structural shapes and free rail channels, the Rapid Flow 4X4 is a heavy duty conveyor system. As the wide dog goes through transfer stops and pushers are eliminated.
Track sections use 4″ I-Beams over specially designed extrude channels. To create a strong and heavy duty system, the I-Beams are joined together with steel yokes with 30″ centers. This makes for a system with a long life and minimal maintenance. The steel track for this overhead conveyor system consists of Rapalloy 1035 high carbon with a higher hardness rating than normal. Our hardness rating averages from 180 to 240 Brinell on the power track and on the free channels.
The Rapid Flow 4X4 System generally is equipped with free trolley. These trolleys are wide and have butterfly type pushers for chain to chain transfers. The free trolleys are rated for loaded capacity equal to a 5″ Power & Free Conveyor which allows for the handling of greater weights than any other 4X4 conveying system in the U.S.
Below is a summary of the key factors of the 4X4 Power & Free System. For even further information, download the brochure above.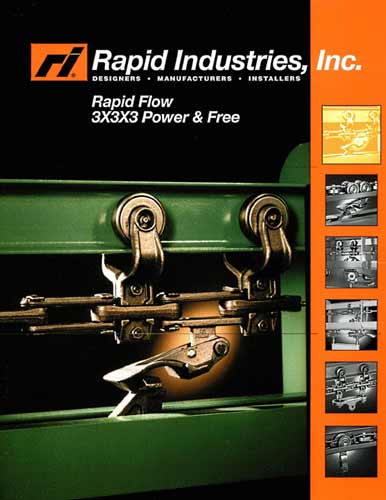 View .PDF
Among its features:
Up to 2,000lbs. load capabilities Standard System and up to 4,800lbs. Plus System!
Heavy duty construction allows for long life and low maintenance
Because wide dogs pull trolleys, no stops and pushers needed