Rapid Flow 3×3
The Rapid Flow 3X3 System is our medium duty Power & Free conveyor system that combines the ruggedness of X348 chain with the versatility of the enclosed track chain. This combination offers the best of both systems, operating properly with much higher chain pulls than enclosed track systems. This means fewer drives in long systems, giving you far lower installation and control costs.
The Rapid Flow 3X3 system features accumulating trolleys which control the movement of carriers and are capable (automatically or manually) of starting, stopping, switching, accumulating, regulating, transferring, lowering or lifting the carrier at any point along the conveyor system.
The Rapid Flow 3X3 Power an Free System utilizes the pivoting power chain dog of the enclosed track system attached to X-348 chain. This allows the overhead conveyor system to have automatic chain-to-chain transfers and eliminates the dead zones common to I-Beam type conveyors without auxiliary pusher mechanisms. Rapid Industries will design, manufacture and install a complete system with matching standard or custom parts.
Below is a summary of the key factors of the Rapid Flow 3X3 System. For even further information, download the brochure above.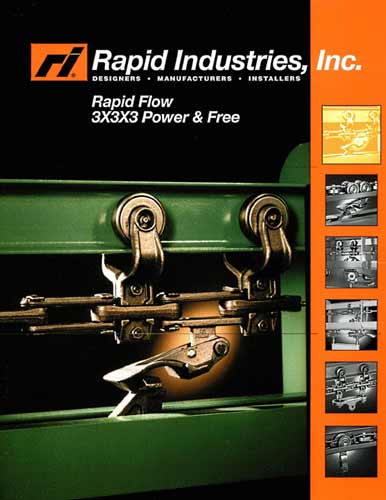 View .PDF
Among its features:
Operates at higher chain pulls than enclosed track systems allowing for fewer drives resulting in lower costs
Automatic chain-to-chain transfers
Accumulating trolleys allow for starting, stopping, switching, lowering, lifting, etc. an any required point
One of our most durable, rugged systems available
Up to 1,000lbs. load capabilities