Rapid Flex Enclosed Track
Rapid Flex Enclosed Track
The Rapid Flex System is our versatile conveyor system designed to satisfy the requirements of manufacturing and finishing operations where light loads are handled. There are no exposed moving parts and are especially suited for finishing and powder coating lines.
The Rapid Flex Enclosed Track system is our best selling overhead conveyor system and is designed to accommodate many needs because of its reliability, flexibility and ease of installation. Formed from high strength steel, the Rapid Flex overhead system eliminates the need for traction wheels on most horizontal turns and may be used in many types of configurations. The steel used in the enclosed track may be saw cut and welded without special equipment for onsite changes and adjustments.
The greatest benefit of the Rapid Flex system is that the chain is enclosed. This ensures longer life for important conveyor components that may pass through different types of finishing processes. This avoids the corrosion, damage and wear and tear found in traditional systems. The Rapid Flex Chain is designed for ultimate flexibility in every direction, yet is still stronger than the traditional link. The chain is easily assembled and disassembled using common hand tools.
Below is a summary of the key factors of the Rapid Flex System. For even further information, download the Rapid Flex brochure above.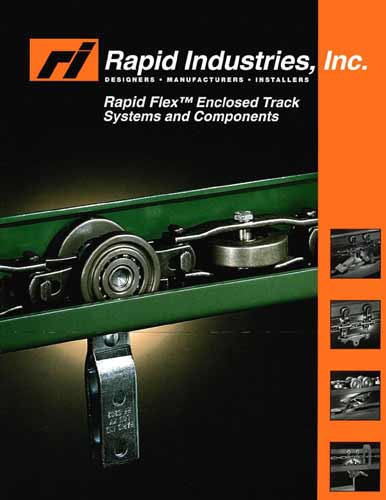 View .PDF
Among its features:
No exposed moving parts; especially suited for finishing and powder coat lines
Reliable and Economical
Ease of installation
Flexible: capable of varying types of loop, twist, incline/decline, and horizontal configurations
Up to 75lbs. load capabilities